Git Integration for Jira Features
Features that enable dev teams to collaborate more closely by surfacing Git & Jira data when & where its needed
View build and deployment data from your CI/CD pipelines in the Jira issue panel and Deployments timeline.

Use JQL to search by build and deployment statuses.

Automate Jira workflows when a build or deployment succeeds or fails.

Give your extended team greater DevOps visibility right from Jira to cut down on confusion and status updates.
Developers can continue using the tools they love, while simultaneously updating Jira so project managers can make decisions and move items through the workflow. It's as simple as adding #comments, #time, and #transition to Jira issues with Git commits. 
You can perform multiple actions on Jira Issues from a single commit in GitKraken Client using Smart Commits. Enter the issue key and the desired action such as time-tracking or closing an issue.
We added this plugin to help us in building out a full CI/CD process and we needed a way to integrate the Jira tickets directly to the code deployments. This plugin was a key part of our integration and works perfectly.
Have been using this add-on for GitLab integration and have been very pleased. Smooth, reliable, and well-supported!
This does exactly what you want with minimal fuss and bother. Our team was successfully using this integration against CodeCommit hosted repos within minutes of installation.
This plugin is awesome! It does exactly what Jira cloud has needed since its inception, which is provide clean Github integration just like you would expect, similar to Bitbucket.
Makes it easy for scrum master and scrum team to view commits associated with Jira tickets. Also easy to use for code reviews for merge requests.
It is a good plugin and it easily integrates with our existing git hosting service without complex configuration. Our development flow is getting better.
If you're working with self-hosted Git servers or strict source code control, indexing via webhooks is for you. In the Classic Indexing options, all features available require two-way communication originating from outside your network. Webhook Indexing only requires that your Git server be able to make outbound Internet requests.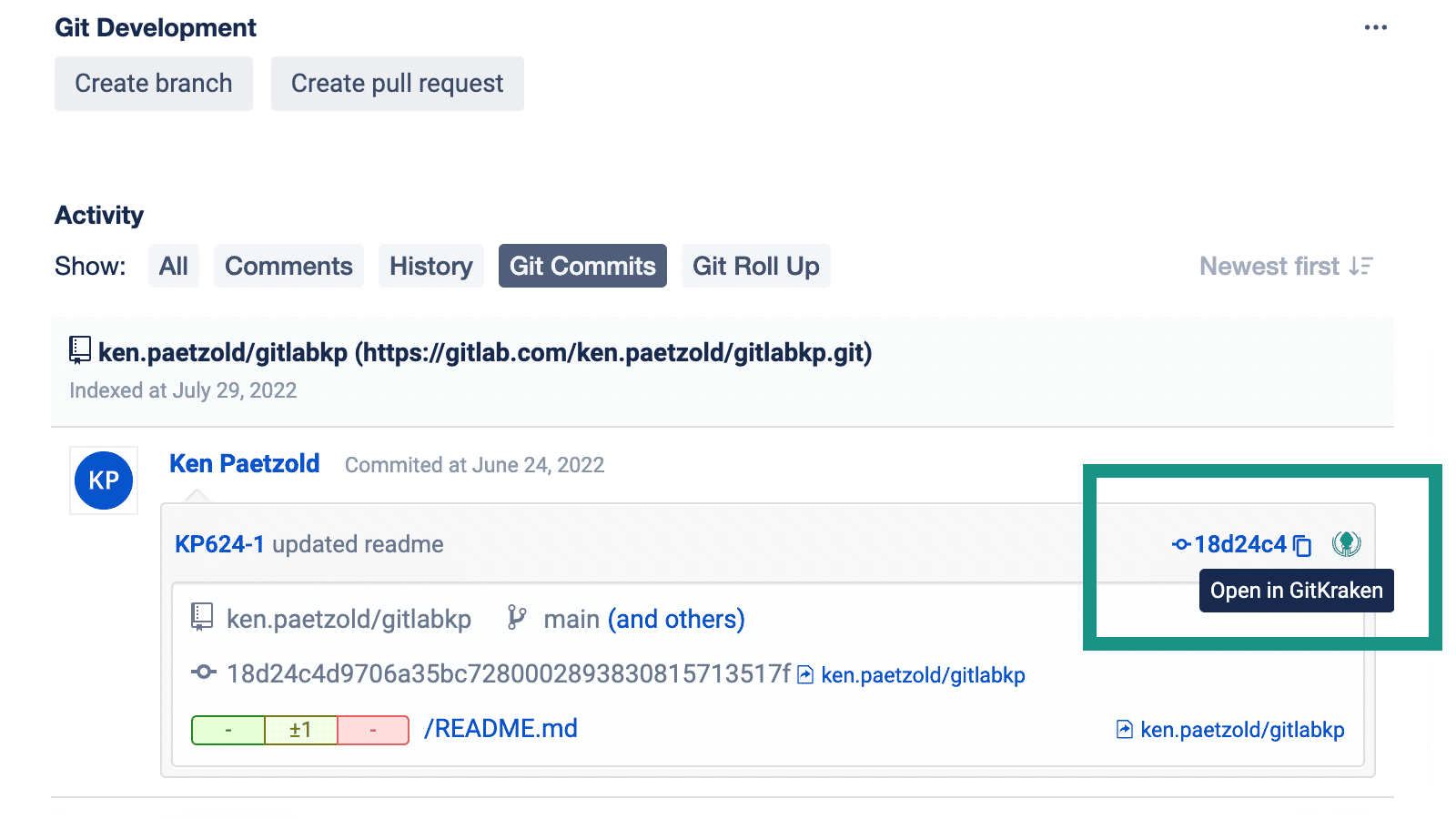 Quickly open commits, branches and tags in GitKraken Client from the Jira Issue view. No more wasting time hunting down branches, you'll be able to start collaborating and reviewing changes faster and easier with seamless bi-directional transitions between Jira and GitKraken Client.
Start a Free Trial of Git Integration for Jira
Git Integration for Jira is the most popular Atlassian Marketplace tool for connecting Git and Jira data when and where development teams need it. Developers and project managers get better visibility, enabling them to make decisions and streamline their workflows.
Manual Issue Association Override
Personal Access Tokens (PATs)