Make plans now to join us for GitKon 2022; a FREE virtual tech conference all about collaboration happening on October 11th – 13th!
Creating a Collaborative Future
We had a tremendous GitKon 2021, our inaugural event. We had over 4,000 registrants and hundreds of folks joined us live for a lively conversation on the GitKon Discord. If you want to rewatch or share any of these awesome sessions, you can find all of the talks on our GitKon 2021 page.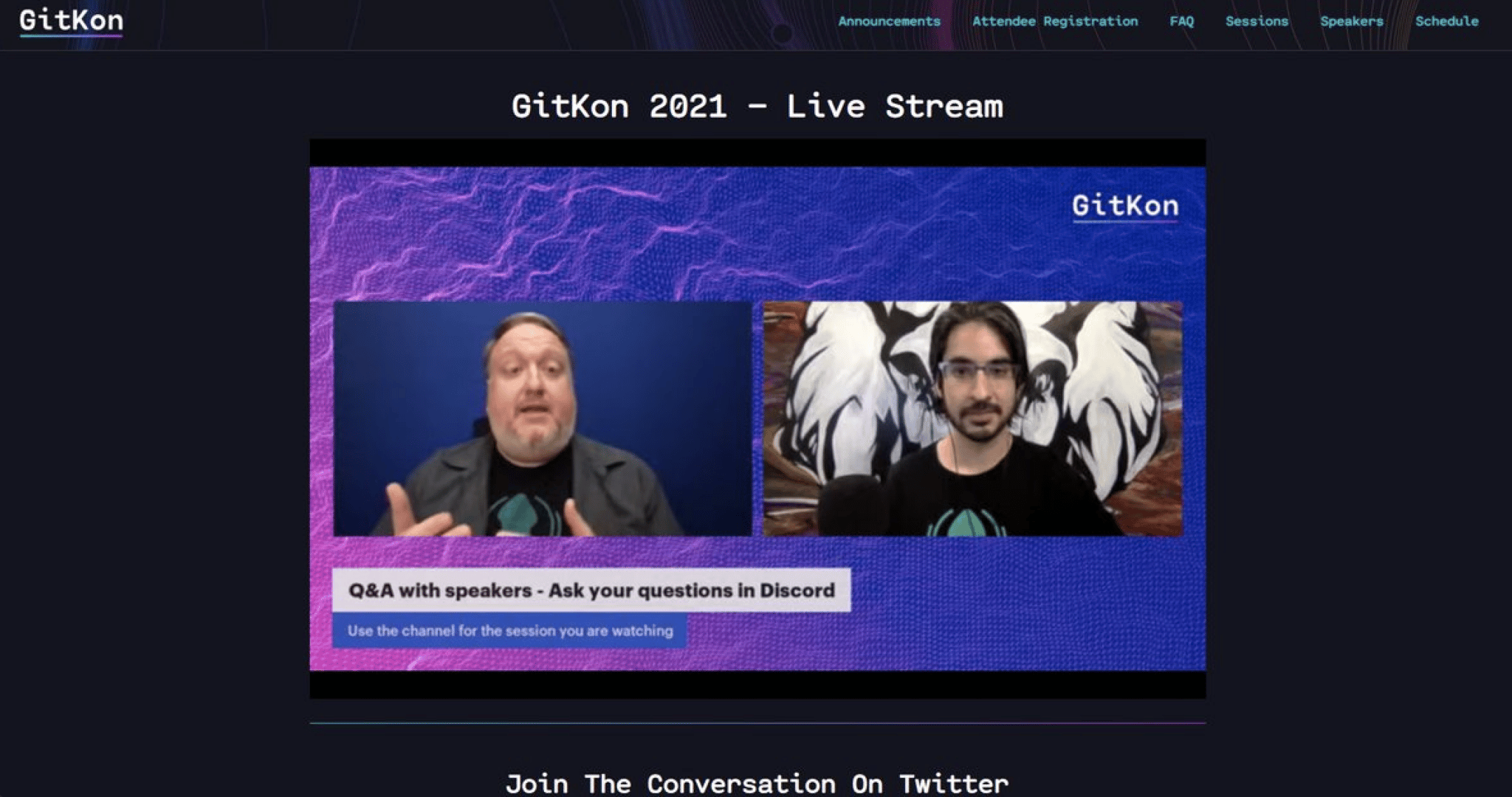 Once again, GitKraken is presenting GitKon, a free 100% online conference for Git users of all experience levels and backgrounds. This year, our theme is "Creating a Collaborative Future." Over the last couple of years, we have witnessed teams shift how they work and how projects collaborate to adapt to these chaotic times. Central to each story is how teams have leveraged Git and platforms and services that rely on the world's most popular version control system.
We are once again bringing together thought leaders and professionals from many areas of expertise to bring you many thought-provoking sessions. We will also be providing a platform for discussing and connecting with your peers about any and all Git and team-related ideas!
A Shorter Format
We heard the feedback from last year that long sessions and long days were overwhelming and a little exhausting. This year, we are trying a slightly different, shorter format.
We'll keep the sessions brief, think TikTok style, at no more than 15 minutes each. While we are adding a 3rd day, each day will only be 3 hours long. We want everyone to walk away feeling educated, energized, and inspired.
We are dividing GitKon into 2 sections.
2 days for developers and teams.
1 day for dev team leads and tech executives.
Each day of GitKon will have a particular focus, allowing you and your team to tune in for the most relevant sessions and help you fit GitKon into your schedule! Sessions will be available on demand after the event as well, but we invite you to join the conversations live, as speakers will be online during and after the premiere of their talk to answer questions live on the GitKon Discord server. Those conversations will not be archived.
Let's take a closer look at what we have planned for each day of GitKon 2022!
Day 1: A Dive Into Git and Platforms
Day one of GitKon 2022 is all about Git itself. This is an ideal day to invite your colleagues, friends, and co-workers who are new to Git or who are interested in deep diving into version control best practices.

Day one will features topics such as:
Git tips and tricks.
Git internals & concepts
Git with services & frameworks
Day 2: DevOps and Teams
The second day of GitKon 2022 will focus on DevOps best practices and stories from team members leveraging Git-based tools to better collaborate. This day will focus on technical content on DevOps and GitOps as well as stories from teams on how they have leveraged Git-based workflows to collaborate better in a more distributed work setting.

Day two will showcase topics around:
Distributed team collaboration
DevOps/GitOps best practices
Security at every step
Program/platform specific talks
Day 3: Leading and Scaling Organizations
For the third day of GitKon 2022, We are planning to assemble some thought leaders from some of the largest and fastest growing organizations out there to address CIOs, CISOs, VPs of Engineering, Tech Directors, and other organizational leaders. This is a day to get together with others facing the challenges of growing teams in some very interesting times. While everyone is invited to all three days of GitKon 2022, this is a day all about managing and scaling enterprise teams!

Day three topics will feature notable tech executives presenting:
Lessons learned building/scaling efficient teams
Developer productivity & DORA metrics
Leading teams & promoting effective teamwork in chaotic times
Emerging trends
Speak at GitKon 2022
We can't make GitKon 2022 happen without some world-class speakers! We are now accepting session submissions for speaking at GitKon 2022! If you feel you have something to contribute around any of the topics we have spelled out here or have another topic in mind that fits within the theme of "Creating a Collaborative Future," we invite you to apply to speak!

Feel free to forward the Call for Speakers to any team members, team leaders, or anyone else you think would make a great GitKon 2022 speaker.
Looking Forward to an Awesome Online Event
We are super excited to announce GitKon 2022 to the world. We would love for you to help us get the word out! You can share GitKon 2022 news with your community with just a couple of clicks:
We will be announcing even more fun and surprises as we get closer to October. Right now you can sign up for email updates to stay in the loop for GitKon 2022 announcements on the GitKon.com site.
We are very excited about GitKon 2022 and can't wait to see you there at this one-of-a kind free virtual event!