If you haven't already, now is the time to evaluate your professional development plans for 2019, including which educational events you're going to travel to and pay for. And if you're in the tech industry, no doubt you have at least one big conference on your wish list this year.
With so many choices out there, and new events popping up every year, it's important to research the top choices closely before making your decision.
Good news! We've done that for you. The GitKraken team asked our global network to share which conferences they were planning to attend this year using the hashtag #TopDevConferences. We've curated the top 10 just for you. 👀🙌
Location: Shoreline Amphitheater – Mountain View, CA
General Event Info: Google I/O brings developers from across the world together for a look at Google's latest dev products and hands-on training workshops.
Price: $375-$1,150
Early-Bird Deadlines: This conference is extremely unique as you must apply to purchase tickets. Applications for the ticket drawing ran from 2/21 through 2/27 and winners were notified on 2/28.
Discounts Available: Full-time students, professors, faculty and staff at high schools or higher education institutions receive a discounted price of $375.

PRO TIP: Google also releases a teaser puzzle prior to opening ticket registration and sharing full event information publicly. Anyone who solves the puzzle reportedly receives a free ticket to the event.
What makes this conference unique? This event is truly a look inside of one of the globe's most pervasive tech giants. Throughout the conference, office hours and app reviews are available, allowing attendees the chance to meet one-on-one with Google experts.
Location: Oakland Convention Center – Oakland, CA
General Event Info: DevWeek SF Bay Area is one of the largest conferences in the world, with an expected attendance of 8,000 developers, engineers, managers, software architects, and more.
Price: $50-$995
Discounts Available: Students and government employees were eligible for a 30% discount and groups of three or more are eligible for a 25% discount.
Professional Credits/Training: DevCareer Summit– this portion of the event explored what it takes to become a senior developer, architect, product manager, dev manager, or CTO.
Hiring Opportunities: Hiring Expo – San Francisco's largest hiring expo took place on February 20 and was free for all candidates. Around 1,000 hireable developers attended.
What makes this conference unique? The variety of topics at DevWeek SF Bay Area makes this event stand out from the rest. Tracks included focuses on: developer sales and marketing; developer management; artificial intelligence development; microservice and container design; blockchain development; virtual reality and 3D software; trends in coding languages; innovations in web infrastructure; mobile web and cross-platform development; DevOps, new database technology, and developer tools.
View more information on the conference tracks here.
New for 2019: DevExec World took place for two days on Feb 20-22 and was designed for technical executives and leaders. It featured peer collaboration, guidance on hiring and retaining talent, effective product management, and team skill development.

Did you miss the event in Feb? DevWeek also hosts events in New York and Austin. The dates for DevWeek NYC 2019 are June 18-20 and the dates for DevWeek Austin 2019 have not yet been announced.
Location: McEnery Convention Center – San Jose, CA
General Event Info: Apple hosts this event annually, inviting developers from around the world to attend to learn about new products and development tools.
Apple has yet to release comprehensive information about this year's event, but MacRumors.com is speculating the following topics for 2019's conference:
Price: $1,599
Registration Deadlines: There is not early-bird pricing available for this event and the chance to purchase tickets is provided at random. Registration has not been released for the 2019 event yet, but we expect it to begin in March.

March 15 Update: Applications to attend WWDC 2019 are now open! Interested parties can apply to attend on the WWDC website through March 20.
Discounts Available: Apple reportedly offers scholarships for tickets and accommodations for students and STEM organizations who apply. For 2018, hopeful recipients competed for tickets by creating an interactive scene in Swift Playgrounds. We expect a similar challenge and process for 2019.
What makes this conference unique? Akin to the spirit of Google I/O, WWDC provides an intimate view into Apple's products, development strategies, and leadership. This event also offers one-on-one workshops with top Apple engineers.
Location: Hilton San Diego Bayfront – San Diego, CA
General Event Info: This event is a premier conference in North America showcasing the open source community. Developers, architects, technologists, and other industry leaders attend to collaborate and learn about the latest and most innovative open solutions.

Event organizers are combining three conferences—LinuxCon, ContainerCon, and CloudOpen—under one umbrella: Open Source Summit.
Price: $800-$1200
Early-Bird Deadlines: $800 Early-Bird pricing ends on May 20; $950 Standard pricing ends on July 22; and $1,200 Late pricing starts on July 23.
Discounts Available: The following discounted options are available for this event at a price of $275:
Hall Pass: access to Keynote Sessions, Sponsor Showcase, daily breakfast and breaks, and the Attendee Onsite Reception.
Academic: Full-time students and faculty members. Valid ID is required.
Hobbyist: If you are paying for yourself and are active in the Linux community. There are a limited number of these passes available; interested parties can apply by emailing events@linuxfoundation.org.
Nonprofit professionals can also receive a 20% discount on the full-event registration price. To receive the discount code, email events@linuxfoundation.org.
What makes this conference unique? This event is specifically designed to connect the open source ecosystem, with particular attention on Linux systems. Topics will focus on the latest trends in open source and open collaboration, including DevOps culture, how technology is shaping the future of cloud, and how containers are helping to drive cloud-native approaches.
Location: Orange County Convention Center – Orlando, FL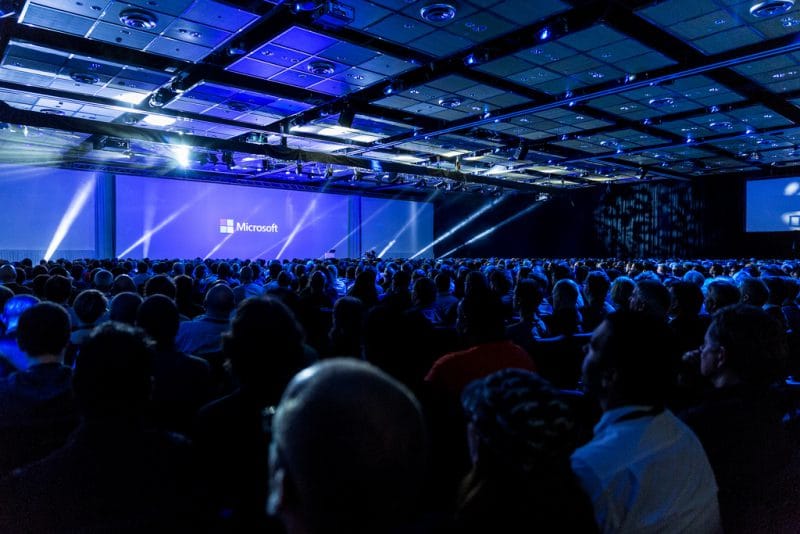 General Event Info: Microsoft Ignite features the latest tools and tech shaping the future of cloud, teamwork, productivity, and intelligence. The event is geared towards IT and data professionals and enterprise developers.
Price: Pre-registration is currently open for this event but pricing details have not yet been released.
Professional Credits/Training: One of the most popular features at this event is the Learning Labs, which offer deep-dive, interactive sessions with Microsoft experts on 365, Azure, Dynamics 365, and more.
Throughout the event, Microsoft will provide a total of 100 instructor-led workshops and over 50 hands-on training labs.
What makes this conference unique? Attendees can hear from the experts themselves. That's right, the people teaching you about the products are actually the people who built them. How cool is that?!

Can't make it to Orlando in November? Microsoft Ignite is going on tour! Checkout this list of events to see if Ignite is coming to a city near you.
Location: Arena Berlin – Berlin, Germany
General Event Info: This is one of the largest JavaScript community conferences in Europe and will feature educational sessions on GraphQL, DevOps, Node.js, progressive web apps, machine learning, and JavaScript frameworks like React, Vue, and Angular.
Price: $900-$967
Early-Bird Deadlines: Regular Pricing of $900 ends on February 27; pricing then goes up about $10 every other week until March 22 when the price reaches $967. See the full sales schedule here.
Discounts Available: Scholarships are available to applicants from underrepresented groups. Prospective applicants can find information and instructions to apply here.
What makes this conference unique? This is a not-for-profit event and is touted proudly as a labor-of-love conference presented by the JavaScript community. The two-day event features 45 sessions on a variety of JavaScript topics.

Can't make it to Germany in June? JSConf offers a variety of conferences around the world, including events in the US (Carlsbad, Honolulu), Budapest, Argentina, Brazil, Columbia, Singapore, Iceland, Belgium, China, and more.
7️⃣ PyCon – May 1-9
Location: Huntington Convention Center – Cleveland, Ohio
General Event Info: PyCon claims to be the "largest annual gathering for the community using and developing the open-source Python programming language."
The first two days of the event are labeled as Tutorial Days and are comprised of intensive three-hour sessions. The middle three days of the conference feature scheduled talks, a sponsor expo, open spaces that attendees can customize for personal and collaborative use, lightning talks, and more. Finally, the remaining four days involve development sprints where the community can come together to develop collaboratively.
Price: $125-$700
Discounts Available: If you are paying for yourself to attend, there is a discounted rate of $400, and for students the cost is $125.
Parties requiring additional financial assistance can apply for financial aid on this page.
What makes this conference unique? This conference is produced and funded by a 501(c)(3) organization, so they are able to keep their costs comparatively lower than similar conferences of this size and nature.

As part of the 2019 conference, PyCon is hosting the Python Education Summit for teachers and educators dedicated to enhancing coding literacy through Python. The goal of the Summit is to bring like-minded educators together to share best practices and strategies for improving CS training worldwide.
8️⃣ DockerCon – April 30-May 2
Location: Moscone Center – San Francisco, CA
General Event Info: Developers, system admins, architects, IT professionals, and more come together for a three-day event to invest in their containerization skills.
Price: $1,350-$1,600
Early-Bird Deadlines: The price of $1,350 is available through April 15 until it raises to $1,600.
Discounts Available: There is discounted pricing offered for students. Students can email DockerCon@Docker.com with proof of a valid student ID to receive the discount.
Professional Credits/Training: DockerCon offers training courses which can be purchased on top of your conference registration for $100 each. Each course is two-days and led by by a Docker Instructor. You can find more information about the topics covered here.
What makes this conference unique? This is the #1 conference specifically focused on the container industry and container technology.
Location: Online
General Event Info: As an alternative to their European and US conferences, Laracon presents an extremely affordable and accessible option for their global network to attend a full-day digital event.
Talks will feature Laravel's more creative and innovative leaders and technologists. The best part? Everything will be recorded and available for access after March 6th.
Price: $25
What makes this conference unique? Certainly the price and location make this event standout. At just $25 a head, and accessible from anywhere in the world with Internet connection, Laracon Online is a no-brainer for any devs working with the Laravel framework.

Want to watch with friends? Checkout this list of viewing parties to see if there's one in your city, or host one yourself!
Location: Washington State Convention Center – Seattle, WA
General Event Info: This is Microsoft's premier event for developers and will cover topics like app development, cloud, AI, data, IoT, and more.
Price: $2,395
What makes this conference unique? If you're part of the Microsoft Developer Network or develop on a Windows platform, it would be hard to justify missing this event. Microsoft Build is created and manufactured with the developer in mind and has highly-specific content.
GitKraken 2019 Top Picks
We loved hearing from our network about the conferences and events you plan to attend this year! Our top four picks for 2019 are below.

P.S. If you're planning to attend any of these conferences, we urge you to find the GitKraken booth and say hi! We always have fun Kraken swag.
This made #2 on the community-curated list this year, and we agree! DevWeek is a great event for developers at a variety of stages, from beginner to advanced.
DevOps World | Jenkins World is a specialized conference targeting IT executives and professionals focused on continuous delivery. Topics give attendees the opportunity to learn, explore, and help shape the future of Developer Operations (DevOps).
Another DevOps focused event, DOES, targets DevOps practitioners of large organizations. Attendees can expect to learn about the evolving methods needed to implement widespread operational change on a larger scale.
Touted as a conference that celebrates the "people and projects that push technology forward," GitHub Universe is a really fun, unique event. The organizers do a great job of creating an immersive experience that almost feels more like a festival than a conference.
But don't be deterred by the colors and lights; the speaker tracks and workshops provide excellent training for anyone contributing to the software development ecosystem.We hope this article has proven informative and will help you decide where to travel and learn this year. Now go forth and plan your professional development investments for 2019!