The easiest way to learn & use Git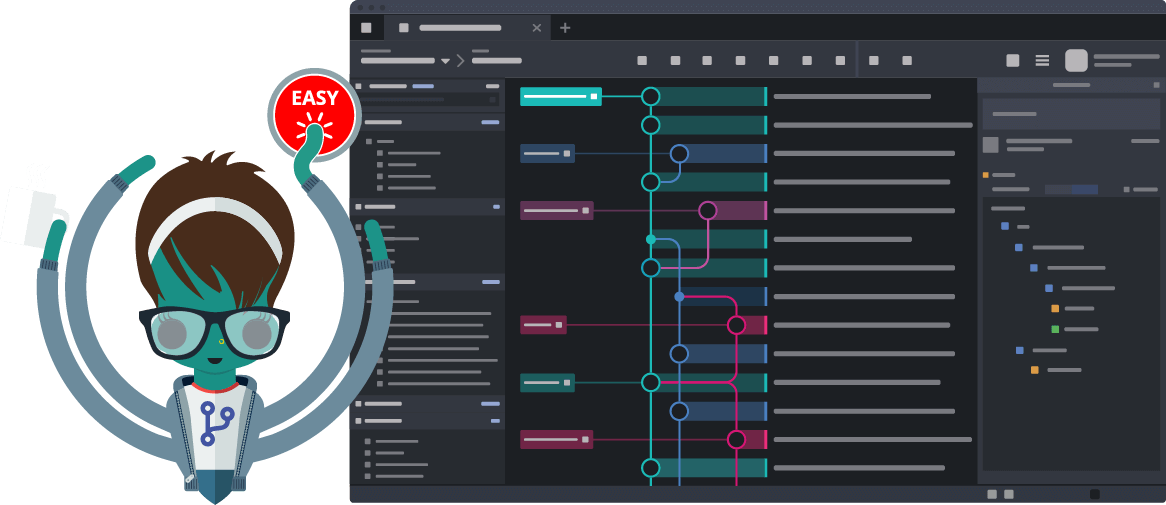 Git is as notorious as the Kraken for being powerful, but it's also complicated to learn, especially if you're trying to memorize Git commands. If you're new to Git, GitKraken will help you get up-to-speed with Git faster and contribute to projects easily and safely from day one. Integrations with GitHub, GitLab, Bitbucket and Azure DevOps make it easy to add remotes and streamline your Git workflow by managing pull requests in-app. Dive into all the features GitKraken offers to make Git easy to learn and use.
The intuitive UI will simplify complicated, hard-to-remember commands into the click of a button, drag of a tentacle, or tap of the keyboard. There are plenty of keyboard shortcuts for repo actions, navigating and adjusting the UI, using the Fuzzy Finder, and working with Tabs.
The Fuzzy Finder is a fan favorite! Try saying that five times fast. Speaking of fast, as you type in the Fuzzy Finder, it will find the most relevant commands for you to select from, so you can complete all kinds of actions with incredible speed. 
Ever use the command line, hit the enter key and have that awful moment where you're not sure if something dreadful just happened? Mistakes are unavoidable in Git, but with GitKraken's magical undo button, in a single click you undo these common actions: checkout, commit, discard, delete branch, remove remote, and reset branch to a commit.
Login to GitKraken with GitHub or Google to avoid managing multiple account credentials. Signing in with GitHub automatically connects the GitHub integration, so you can quickly generate an SSH key, clone or fork a repo, and create/manage pull requests.
Create multiple profiles to store your UI preferences, integrations, current tabs, and Git config information. This makes it quick to switch between your multiple personalities or projects or work environments. You'll have everything you need configured and ready to go.
Know Who's Working on What
Admins on  GitKraken Pro and Enterprise accounts can create teams within organizations. The team view shows all team members and which files and branches they're working on. You'll have to do your own detective work to find out what's in that mug… 🕵️‍♂️
When you're collaborating on a project, merge conflicts are bound to happen. Unless… There's a clever Kraken keeping an eye out to warn you when you and a team member are working on the same file. That's right, GitKraken is the only Git GUI that detects and alerts ⚠️ you of potential conflicts so you can prevent them from ever happening! 
Clearly Resolve Merge Conflicts
Resolving merge conflicts can be one of the most complicated tasks in Git if you're using the CLI. GitKraken has a built-in Merge Tool to make conflict resolution so much more clear. You'll see the current branch and the target branch that you're merging into side by side. Simply check a section and it will be added to the output so you can see the options in context and decide what to commit. You can also configure other popular external merge tools.
Using forks with your team? Remotes are easy to search for and add when using integrations like GitHub, GitLab, Azure DevOps, and Bitbucket. This makes viewing and interacting with other forks and remote branches quick and easy.
Create & Manage Pull Requests
GitKraken has its tentacles connected to all the popular Git repository hosting services. It's swift and simple to create pull requests. If you're using the GitHub integration, you get even more PR capabilities: edit, merge, approve, request changes or comment on a pull request without ever leaving GitKraken. 
With a whole team of Git contributors making pull requests, keeping tabs on all the potential changes can quickly become overwhelming. Sort through the noise and filter by pull requests opened by you, assigned to you, awaiting your review, or other custom filters.
Need to see what changed in a commit, file, branch, etc.? Diffs make it easy in the GUI! Click on a file from the commit panel and select Hunk View, Inline View, or Split View to get the best context. Zero in on specific changes thanks to syntax highlighting and word diffing. Alternatively, it's easy to configure and launch your favorite external diff tool from GitKraken.
Connect Your Issue Tracker
GitKraken Boards is a task and issue tracking system that you can open in a tab in the client or in a browser. Visualize issues in a Kanban board, timeline or calendar view.
Make Git easier, safer & more powerful.