To make great software, you need the best developer tools—or at least they'll make your life a lot easier! At Axosoft, we pride ourselves in building great tools like Axosoft, a Scrum project management software; GitKraken, a cross-platform Git GUI client; and Glo Boards, an issue and task tracking system. There are a lot of other great tools we like to use internally, but we wanted to know what dev tools are being most widely used in the industry.
So, to find out, we asked our community to tweet their top 5 dev tools using #MustHaveDevTools. There were over 1,000 tweets—twice as many as last year!
TOP PICK:
GitKraken: The legendary Git GUI client for Windows, Mac and Linux.

#1️⃣ in votes for 2 years in a row
Of course, we expected GitKraken to be the top choice of our users, but the rest of the list is what we're excited to share with you! Now, we're starting to see trends in which tools are being used year-over-year, which tools are new on the developer scene and which tools are old news.
And to make it a little more exciting this year, we're officially recognizing the top 3 dev tools (other than GitKraken) with the Golden Kraken Awards!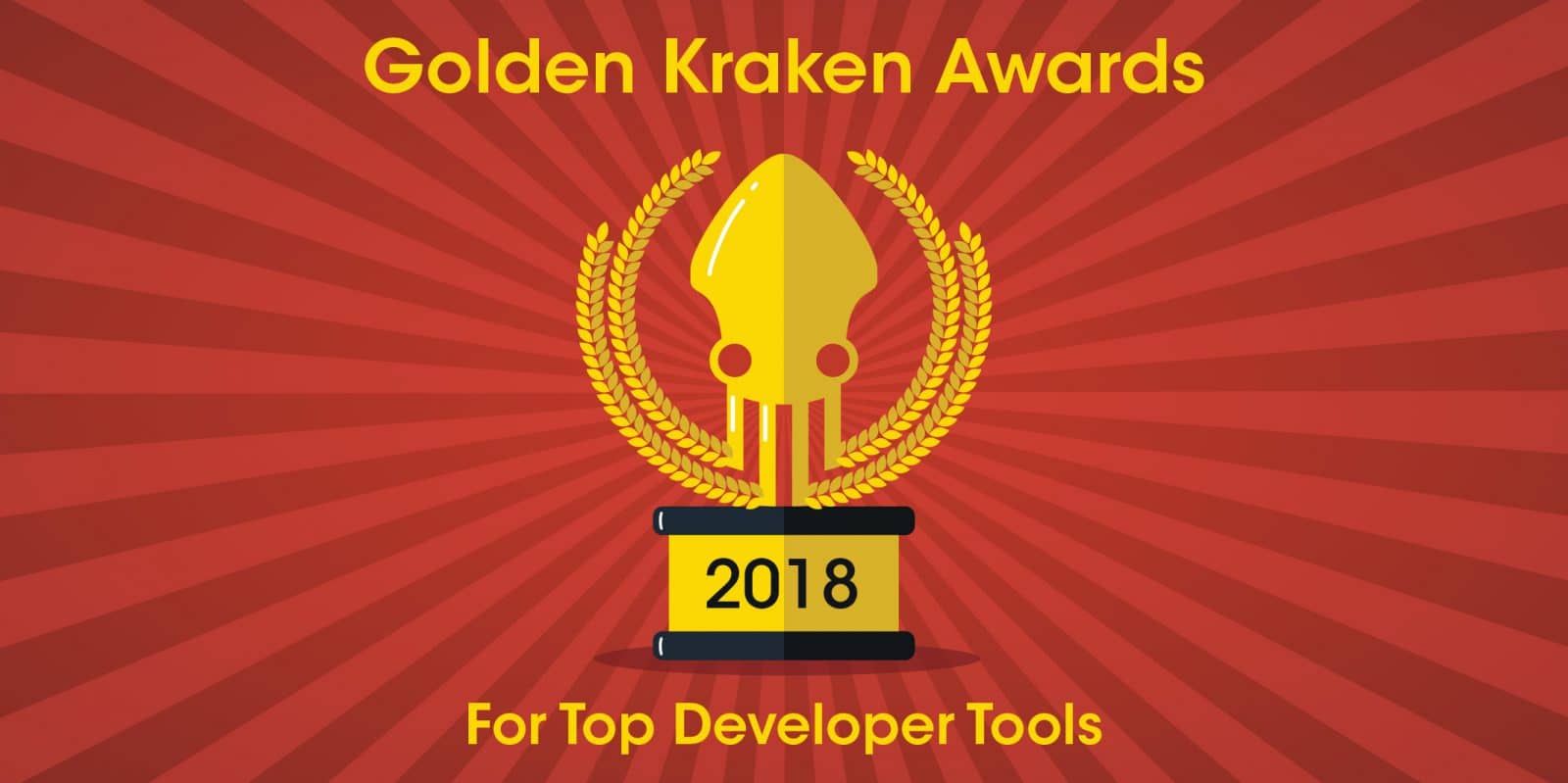 🏆✨The Golden Kraken Awards go to…
2. Visual Studio Code: A free, lightweight tool for editing and debugging web apps.
⬆️ 1 spot from last year
---
3. GitHub: A web-based Git repository hosting service.
⬆️ 2 spots from last year
---
4. Git: A free and open source distributed version control system.
#4️⃣ for 2 years in a row
Top 5-20 dev tools
5. Chrome DevTools: A set of web authoring and debugging tools built into Google Chrome.
⬆️ 3 spots from last year
---
6. Atom: A hackable text editor for the 21st Century.
⬇️ 4 spots from last year
---
7. Sublime Text: A sophisticated text editor for code, markup, and prose.
#7️⃣ for 2 years in a row
---
8. Slack: Real-time messaging, archiving, and search for modern teams.
⬆️ 7 spots from last year
---
9. Postman: A powerful GUI platform to make your API development faster & easier.
⬆️ 4 spots from last year
---
10. Docker: An open platform for developers and system administrators to build, ship, and run distributed applications.
⬇️ 1 spot from last year
---
11. IntelliJ IDEA: A Java IDE from JetBrains.
#1️⃣1️⃣ for 2 years in a row
---
12. GitLab: Git repository management, code reviews, issue tracking, activity feeds, and wikis.
⬇️ 2 spots from last year
---
13. Visual Studio: Developer tools and services for any platform with any language.
⬇️ 7 spots from last year
---
14. PhpStorm: A commercial, cross-platform IDE for PHP.
⬇️ 2 spots from last year
---
15. ZSH: A Unix shell that can be used as an interactive login shell and a powerful command interpreter for shell scripting.
*️⃣ new to the list
---
16. Node.js: An open-source, cross-platform JavaScript run-time environment for executing JavaScript code server-side.
*️⃣ new to the list
---
17. Firefox Developer Tools: A set of developer tools that are built into Firefox.
*️⃣ new to the list
---
18. Stack Overflow: The largest online community for programmers to learn, share knowledge, and advance their careers.
⬆️ 2 spots from last year
---
19. iTerm2: A GPL-licensed terminal emulator for macOS.
*️⃣ new to the list
---
20. Eclipse IDE: Tools for Java developers creating Java EE and web applications.
*️⃣ new to the list
Year-over-year trends
Several of last year's top developer tools didn't quite make the cut this year: ReSharper, PyCharm, Android Studio, Notepad, and Xcode.
The new tools that made the list for 2018 are ZSH, Node.js, Firefox Developer Tools, iTerm2 and Eclipse IDE.
Chrome DevTools climbed the ranks 3 spots from last year, and Firefox Developer Tools showed up on the scene at number 17.
GitHub increased the gap between it and GitLab this year by climbing 2 spots to number 3, and GitLab dropped 2 spots to number 12.
Slack gained the most in popularity year-over-year, rising up 7 spots to number 8.
Visual Studio had the biggest decline in popularity, dropping 7 spots to number 13.